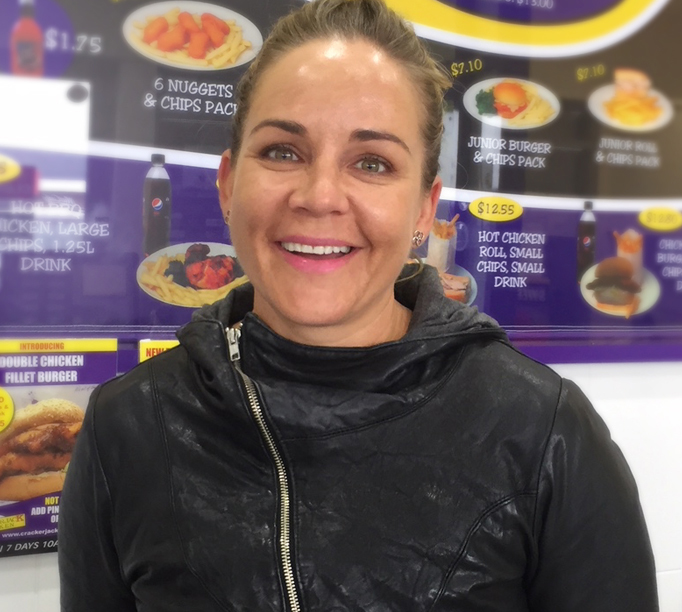 Penny
Tell us a bit about your shop or service:
We are the BBQ chicken specialist offering a wide range of burgers, rolls, chips, sweet potato wedges and great value for money, lunch & dinner deals.
How long have you been working here? 3 years and six months.
Are you a big or small crew - how many of you working there?
We employ 12 staff, all casual employees.
What's do you think is best part of your job?
The ability to employ local people and educate them regarding work ethic and equipping them with life skills.
Do you think your shop or service helps make customers' lives easier? If so, tell us how: Most definitely, in this day and age with mum and dad's working longer hours we offer healthy versions of fast food, i.e. veges, sweet potato wedges salads and BBQ chickens rotisserie cooked (not fried).
Do you have local customers you know by name, or like to have a chat with?
Yes, the regular staff know many of their customers.
What is the funniest or most unusual request you've ever had from a customer?
Request a chicken fillet burger with no bun, no lettuce, no sauce i.e. a crumbed chicken thigh.
What do you think makes Highfields Village a great community and/or good place to shop? Clean, tidy and well presented. Well managed.
Name two things you like most about working at the centre?
Friendly customers, friendly environment, more regular customers.
Do you have a favourite time of year in the centre and if so why?
Winter, once the morning has warmed up, because the shops are busier.